K E Brown manufactures Form 1, 2, 3 and 4 Fully Welded Custom Designed low voltage electrical switchboards at its manufacturing facility located at Warriewood on Sydney's northern beaches.
Our facility is one of the most up to date in Australia covering approximately 2444 sq. metres of administration and factory area. The facility specialises in producing custom-built switchboards, and incorporates a design and engineering centre; sheet metal fabricating section; busbar bending equipment; and electric cabling and switchgear assembly area. The factory employs approximately 50 people from apprentices to qualified electrical engineers in a variety of roles, but all dedicated to doing "whatever it takes to meet the needs of the customer.
Our World Class Switchboard Capabilities include
100ka Fault Level Certification
Mild Steel, Stainless Steel
Quality Assurance ISO 9001
Factory acceptance testing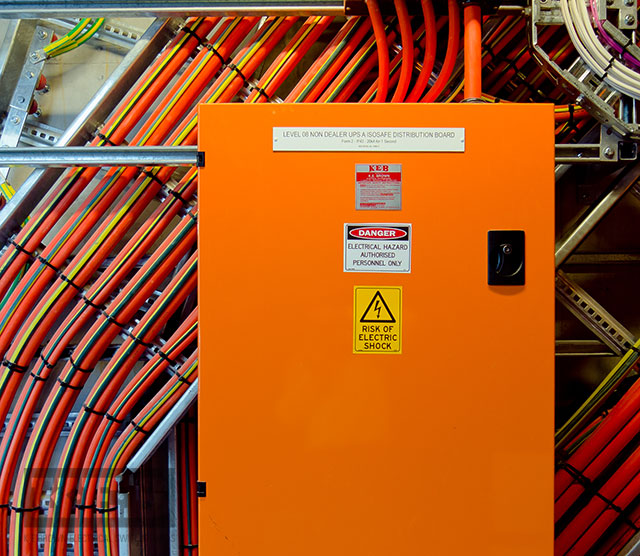 Distribution Boards
K E Brown Electrical Switchboards has a dedicated Distribution Board Team and an in-house manufacturing section to meet the latest market demands in Distribution Boards.
We specialise in a custom product which meets the BCA requirements for monitoring Light, Power and Mechanical Loads. Separately we offer plug-in Distribution Boards which reduce the termination time of field cables for site technicians. We also manufacture smoke sealed Distribution Boards to satisfy the requirements of AS/NZS 3000. Our Distribution Boards can be monitored locally and remotely.
Our products can be adapted to meet various sizing constraints.
Power Distribution Units
K E Brown manufactures a large variety of Power Distribution Units for the Data Centre market.
Our Power Distribution Units are Custom made and are built to the required safety standard and incorporate the necessary networking and monitoring equipment to improve efficiency and uptime in the critical sector Data Centre market.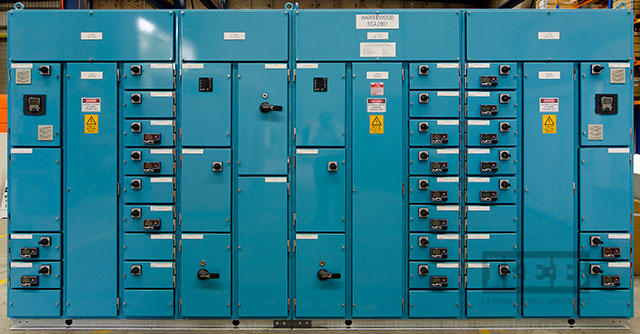 Motor Control Centres
K E Brown offers a variety of Motor Control Centre (MCC) options, purpose built to meet specific customer needs.
We manufacture Form 1, 2, 3 & 4 modular and custom enclosures suitable for the Water, STP, Infrastructure and Industrial sectors. IP54 and IP56 weatherproof construction are available.
KEB IsoSafe™ Distribution Board
This alternative PDU design enables individual circuits to be safely isolated from the main system in accordance with the latest wiring rules, without affecting other circuits governing functions, it is widely used across Australia.
This avoids having to close down an entire switchboard, involving scores of circuits, when only one circuit needs to be worked on, to add, inspect, change or replace equipment.
The technology is particularly important to applications where minimising downtime is vital, including banks, data centres, hospitals, telecommunication companies, manufacturing plants and anywhere continuation of supply is vital.
Safety and flexibility is provided by using a Schneider Electric Isobar chassis that enables maintenance staff to disconnect and reconnect particular functions without disrupting the entire network. A disconnectable neutral terminal also allows operators to isolate the active and neutral when working on individual circuits.
The switchboard is available in 12 to 72 pole sizes and can be fitted with Schneider Electric RCD's. It includes an Isobar chassis, a main circuit-breaker or isolator, circuit-breaker terminal covers, numbered neutral and earth connections located directly opposite each circuit-breaker and a cable management system that allows open access to cables while retaining them in tidy groups. Key features include:
Disconnectable neutral terminal, which allows the operator to isolate the active and neutral when working on an individual circuit.
12-72 poles. Can be fitted with RCD circuit breakers
Unique cable management system. Allows complete open access to cables while retaining them in a neat and tidy group
Isobar chassis; Main circuit breaker or isolator; Circuit breaker terminal covers; Numbered neutral and earth connections located directly opposite each circuit breaker.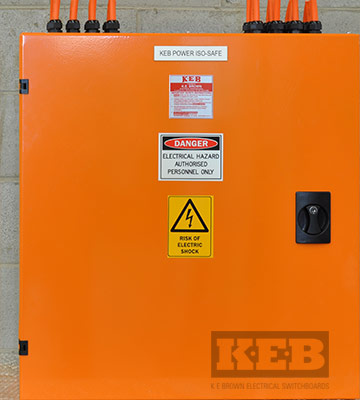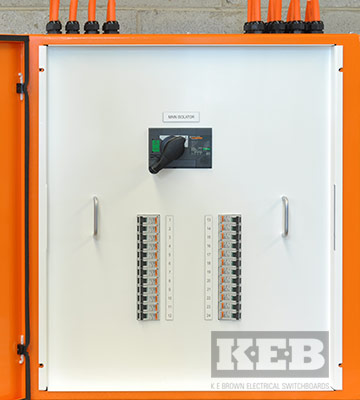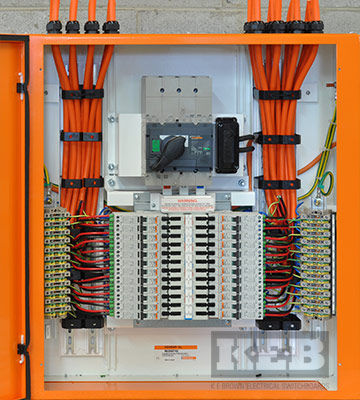 KEB PowerSafe™ Distribution Board
This industry first PDU was designed with our focus on reducing downtime in the safest way possible for Critical Power applications such as Data Centres, financial institutions and Telecoms.
This PDU allows licensed electricians to change out individual circuits without shutting down the switchboard. KEB PowersafeTM Distribution Units are extensively used across several industry sectors. Key features include:
Replace or add circuit breakers without having to take your Distribution Board offline
Convert single pole to three pole and vice versa
Maintain productivity while changing or adding circuits
All circuits fully insulated so work can be done safely (in accordance with Regulations and Regulatory Best Practices)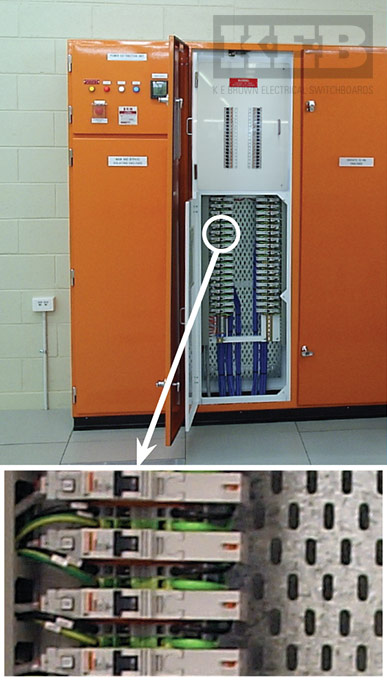 Let's talk Switchboards
Talk to the Specialists