In the Low Voltage Electrical Switchboard Industry the main cause of switchboard fire is an undetected "HotSpot".
Thermographic cameras can detect hotspots which are invisible to the naked eye well before they progress into an electrical equipment failure, electrical fire or potentially a switchboard explosion.
Early detection of hotspots is key & may save your company time and money by assisting in eliminating unexpected equipment outages and minimising business disruptions.
Thermal scanning is non-intrusive, does not require a shutdown and can be carried out without impacting site operations.
K E Brown recommend thermal scanning of electrical switchboards be carried out as part of the annual routine maintenance program, together with a switchboard inspection, giving you an accurate assessment of the condition of your switchboard.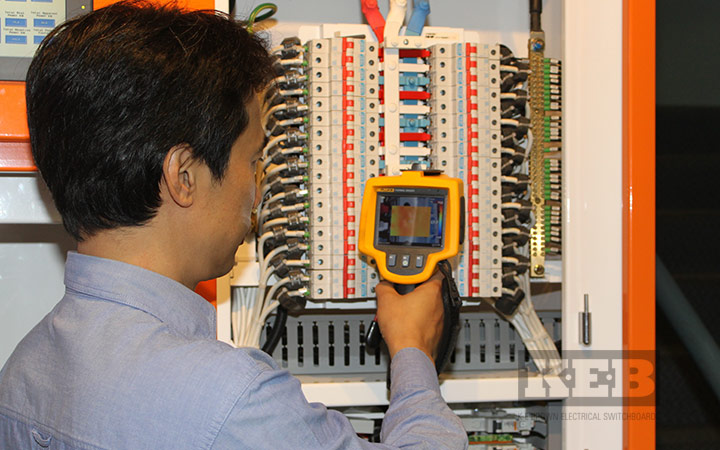 Our detailed thermal scan reports include
Details of equipment inspected
Thermal Picture in Picture images
Operating temperatures detected
Recommendations on corrective actions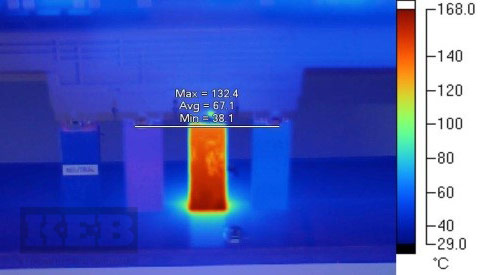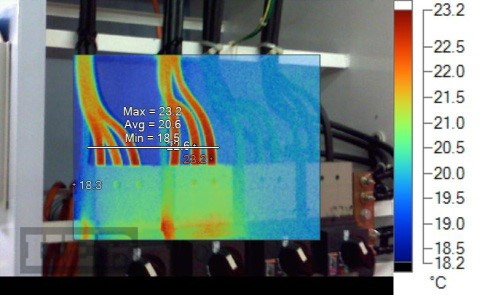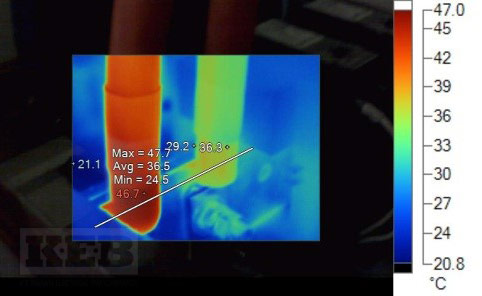 The data collected from our thermal scanning will be summarised in our report and any rectification recommendations will be prioritised, giving the building manager a clear understanding of the switchboard condition allowing for any necessary rectification works to be carried out on a priority basis while minimising disruption to operations.
Experience Counts
K E Brown thermographers are Cert 1 Qualified by an external qualifying authority. Our personnel will accurately interpret thermal readings, which can be effected by factors such as the emissivity of the object's surface.
In addition, K E Brown site personnel are experienced switchboard tradespeople, with a wealth of knowledge in design and understanding of specific LV switchboard AS and SA requirements, switchboard equipment, remedial and maintenance works, live switchboard testing and shutdown planning logistics.
Safety is K E Brown's top priority. Our experienced site personnel are licensed electricians, Low Voltage Rescue & First Aid Trained.
Thermal Scanning Charge out Rates
Half Day Thermal Scanning (business hours): $600 + GST
Full Day Thermal Scanning (business hours): $1200 + GST
Discrimination Studies
For your new or existing installation, K E Brown's highly experienced design staff can undertake a discrimination study in order to minimise power outages to your critial services in the event of a fault.
Discrimination is an important aspect of electrical system design. Our team will inspect your existing equipment or review your new installation's drawings in order to provide a comprehensive discrimination study.
Our detailed report will identify potential risks and provide solutions in order to minimse any potential down time.
Load Monitoring
Load Monitoring is a facility whereby power consumption is monitored via an electronic recording device to determine peak current flows and maximum electrical loads at time of use.
Sometimes monitoring is required by electrical inspectors, building officials or various jurisdictional representatives in response to an application for property expansion or renovation.
K E Brown can undertake Load Monitoring by connecting instrumentation at the main supply switchgear or other key locations where load data is needed. Typically the equipment is connected and then left in place to periodically make measurements over a pre-determined period such as 3 days, 7 days or 30 days. Note, the recording periods must be long enough to capture an adequate sample of data to answer the questions or provide information required to fulfill the purpose of the monitoring project.
K E Brown will provide a report to the customer including a description of the job; procedures followed; equipment/locations monitored; dates the work was performed and by whom; load information including current and voltage; and if required harmonic distortion. The report provides a summary of the minimum, maximum and average values for each of the measured quantities. Also, the report provides conclusions and recommendations that correspond to the purpose and objectives of the project.
Load Monitoring generates important data that can help to unravel the mystery behind commercial facilities energy usage characteristics. Let K E Brown show you how to prevent overloads of electrical systems and uncover the potential for energy cost savings via "Real Time" monitoring.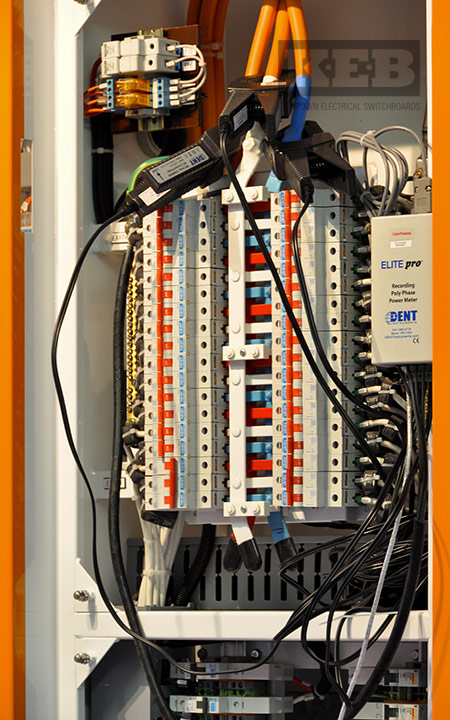 Audit Conditioning
As switchboards age, it is prudent that a review be undertaken as to their condition and recommendations sought as to possible and practical alternative means to remedy any defects.
K E Brown has extensive experience in manufacturing and servicing a wide variety of low voltage electrical switchboards. Our audit and inspection team is well qualified to carry out work of this nature.
The work carried out by the K E Brown team is comprehensive and detailed including consideration of the following:
The general environment where the switchboard is located including likely exposure to a variety of contaminants such as dust and water that can lead to a general deterioration and failure of the apparatus.
The general condition of the enclosure housing the switchboard which if able to be penetrated by any number of contaminants may lead to a failure of the internal workings of the switchboard.
Inspection of the busway and chassis to ensure that continued successful operation can occur noting any contamination that may exist.
Inspection of the cabling to ensure that the proper support continues to exist noting any missing elements of support and areas of contamination.
Inspection of the switchgear including the general condition of any motor starters and the general serviceability of the components.
At the conclusion of the report is a general comments section summarizing the audit and inspection work carried out and containing a series of recommendations, if deemed appropriate.
Just as organisations have audit and inspections of a variety of procedures and systems, be they financial or physical, it is important that audit and inspections be carried out on electrical switchboards as well. Switchboard malfunction or failure can be costly to an organization particularly in the area of continuous processing facilities or can result in health and safety exposure to employees and others.
Switchboard Engineering
K E Brown's service team can provide assistance to consultants, building managers and electrical contractors in all ares of low voltage switchboard design and modification proposals.
Typical areas of assistance can include:
Switchboard load rating and kA assessment
Assistance in preparing specifications for switchboard modifications
Control logic fault finding or modification
Purpose built switchboard enclosures
Switchboard extension cubicles
Cable / Bus Duct transition boxes
Retro fit equipment selections into old existing switchboards
Integration of energy management systems
Discrimination studies
There may be circumstances where it is desirable to introduce a back-up generator into a process to ensure continuity of power supply. In these circumstances an Automatic Transfer Switch is installed so that the generator may provide temporary electric power if the utility source fails.
The team at K E Brown have the capability of working on this issue, and installing either a manual transfer switch or a combination of automatic or manual in either Open or Closed mode.
Switchboard Maintenance
Like all pieces of industrial technology electrical switchboards are subject to "wear and tear" and unless maintained according to the manufacturers standards can be the subject of malfunction or failure.
In some circumstances malfunction or failure may be nothing more than a simple annoyance yet in others, such as with continuous process manufacturing plant, they may be costly.
K E Brown provides a recommended maintenance schedule with each electrical switchboard that it manufacturers, and has the relevant qualified tradespersons to undertake the work required. Alternatively, our team can advise you on what could be a recommended maintenance schedule should you require assistance in this area.
In advising what could be a relevant maintenance schedule the team at K E Brown will undertake the work necessary to prepare a Switchboard Inspection Report. This report provides a comprehensive review of your switchboard(s), and would include Thermographic scanning, and recommendations for necessary works.
Once the maintenance works have been agreed upon the team at K E Brown will attend the relevant premises at a time to suit you. The team will then shut-down the switchboard, and conduct the agreed necessary works. Once completed the switchboard will be tested and bought back into service.
You would not run you fleet of motor vehicles without maintenance and servicing, so just because your switchboard is "out of sight" does not mean it should be "out of mind".
Switchboard Modification
The K E Brown Service team has an excellent track record in successfully completing complex switchboard modification works and switchboard replacement works.
Working in conjuction with experienced electrical contractors or directly with a client, K E Brown have been able to create innovative solutions, utillising its wealth of engineering knowledge, manufacturing expertise and a thorough understanding of switchboard design and construction.
Our service team is highly experienced in all areas of low voltage switchboard works with a wealth of experience in planning and coordinating critical shutdown works in defined time frames while mitigating risks to the process and client operations.
Typical modification works include:
Installing of new switchgear equipment
Retro fitting new ACBs, MCCBs into existing switchboards
Installation of new ATS assemblies
Installation of new switchboard sections or extensions
Installation of multi-function metering of energy management systems
In general, switchboards with more than 10 years of service are likely to contain obsolete switchgear. In many situations existing switchboards which are adequately maintained are able to provide reliable operation but at an increased risk with respect to potential equipment failure and the resulting down time rectification works.
The rectification down time with older switchboards is typically longer and more costly when compared with newer switchboards which have interchangeable parts available. Retrofitting current switchgear into older switchboards can require the manufacture of new transition busbars, cleats and metalwork modifications with the shutdown duration impacting on building operations.
Many clients undertake a renewal process of their switchboards where critical operational switchgear is replaced in a planned and coordinated manner to increase the reliability and serviceability of their switchboard infrastructure. This process is generally cheaper that the alternative of replacing the entire switchboard and reduces the risk of having to replace damaged switchgear in a blow up situation or worse the replacement of an entire switchboard in a catastrophic failure scenario.
Switchboard Replacement
Switchboards may need replacement for a variety of reasons such as the upgrading of a building to accommodate new and/or different activities. An example of this might be the establishment of a data centre where a number of servers need to be installed.
The team at K E Brown is able to work either directly with the building owner or with the selected electrical contractor to design and build the replacement switchboard. Given the range of product designed and manufactured by K E Brown the replacement switchboard could be either custom-built or of a modular nature.
Our service team can provide assistance in planning and coordination of shutdown works an any related logistics issues:
Disassembly of old switchboards and removal from site
Determining new switchboard section sizes and confirming egress paths to switch room.
Lifting aids, transportation equipment or ramps to negotiate egress problems, for example, stairs into a switch room
Delivery issues, council permits or lane closures
Once the old switchboard has been removed and the new switchboard section delivered to the switch room our service team will rejoin the new switchboard sections, carry out testing and QA inspections on the completed assembly to confirm that it is ready for use.
Let's talk Switchboards
Talk to the Specialists